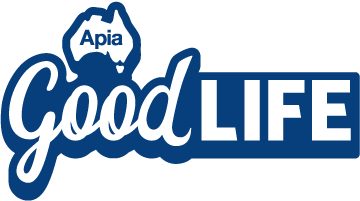 Helping your parents on the road to ageing well
---
While ageing is inevitable, ageing well takes a little bit of work. This is why Apia has teamed up with in-home care provider Five Good Friends to create The Guide to Living Well. This new resource – the first of its kind in Australia – will help you support your ageing parents as they get older by providing you with tools, tips and insights from experts.
We all want to make sure our parents are able to lead happy and fulfilling lives as they get older. It's possible many will have the time, financial freedom and experience to be able to pursue passions like travel, spending time with family and friends, and learning a new skill or hobby. That being said, your parents might be feeling stressed or overwhelmed if they don't have a solid plan in place.
How do you figure out what a successful plan looks like? The Guide to Living Well outlines the key areas to consider, so you're armed to help your parents navigate their later years, and also get thinking about how to prepare, as you too grow older.
A successful plan
As you talk to your parents about what they want their later years to look like, ideally the plan should answer five key questions. To kick-start the conversation, you could begin by posing these questions to your parents.
1. Where do you want to live?
Picking the right place to live will depend on finances, lifestyle preferences and your health. Do you plan on staying in the family home, in a retirement village, moving to be closer to family, or simply downsizing your current house? It's important you have a plan B in place in case of illness, mobility issues or the poor health of a partner.
2. What will your financial situation look like?
It's essential to make sure you have enough money to maintain your lifestyle, and any extra care if and when you need it. Everyday expenses, your eligibility for government entitlements, family commitments and emergency cash options should all be taken into account as well.
3. How might the rest of the family be affected?
There's no denying you should take into account your partner during this planning, but also consider any financial or emotional stresses that might be placed on your wider circle. As difficult as these things can be, getting a will in order and having an in-depth discussion with your loved ones about how you would like to live as you age are vital.
4. How will you support your mental and physical health?
Looking after your health as you age will make for a happier and able life moving forward. Diet, exercise and keeping mentally active can all help prevent the onset of key diseases and mobility issues – ultimately helping you to live longer and maintain your ability to live life at its best.
5. Where will you likely find fulfilment and companionship?
Whether you plan on working, volunteering, joining a club or moving into a community of like-minded people, it's important that you think about and plan for how you will maintain your sense of accomplishment and friendship.
When helping your parents plan for how they want to age successfully, it helps to keep a positive yet realistic mindset about what's to come; we should all hope for the best, but also plan for the worst through open and honest discussions with our loved ones.
While this list only touches on the surface of each of the points, The Guide to Living Well will arm you with conversation starters, practical information and advice from experts within areas including mobility, nutrition, wellbeing, finances and technology so you feel ready to help your parents plan, but also begin preparing early for yourself as well.
To download the guide in its entirety, click here.
For more information, call the Five Good Friends and Apia Care Advice line on 1300 50 27 42.
Not an Apia customer and want to find out more?
Subscribe to our FREE Apia Good Life quarterly newsletter for information on our latest offers, stories and inspiration to keep living life at its best.
---
Australian Pensioners Insurance Agency Pty Limited ABN 14 099 650 996 is an authorised representative of AAI Limited ABN 48 005 297 807, the product issuer. Limits, exclusions and conditions apply. Read the Product Disclosure Statement before buying this insurance. Go to apia.com.au for a copy. The Target Market Determination is also available. This advice has been prepared without taking into account your particular objectives, financial situations or needs, so you should consider whether it is appropriate for you before acting on it.
The information is intended to be of general nature only. Subject to any rights you may have under any law, we do not accept any legal responsibility for any loss or damage, including loss of business or profits or any other indirect loss, incurred as a result of reliance upon the information. Please make your own enquiries.